4/25 books
This one is to challenge you to increase books read on your eReader.  This will be fun, I just got a Kindle for Christmas 🙂
My goal is to reach DVD Level – 25 eBooks
1) Elsie – Adventures of an Arizona Schoolteacher 1913-1916 [Kindle Edition]
You can find my goodreads review here or in this blog post.
2) Allegiant
You can find my goodreads review here.
3)
Critical Pursuit by Janice Cantore
My rating: 5 of 5 stars
This book literally drew me in from the first page on. I finished it in three days! I just could not seem to put it down. I was a little skeptical about it from the description; it sounded good, but did not get me very excited about reading it. I am so glad that I opened it and started reading. She talks about extremely difficult topics with extreme grace. I would highly recommend this book to anyone who enjoys crime or mystery. I was on the edge of my seat the entire time. It is full of drama, action, and suspense from page one to the end.
Janice Cantore does a wonderful job of developing her characters and really connecting them to the reader. I felt like I was Brinna and it was so hard! I tend to immerse myself into my reading. This could be why I finished this one so fast, it was very hard to be immersed in their world. They had to deal with so much pain both in their own lives and through the lives of their victims. It really makes a person think about the incredibly difficult work that our police officers do everyday to keep our society safe.
I want to say so much more in this review, but I do not want to give anything away. I will just say that it is an excellent and engrossing read that addresses some very hard topics, but it leaves you with a happy feeling. It does a great job in trying to answer the age old question of why bad things happen in this world.
4)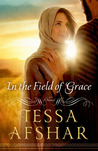 In the Field of Grace by Tessa Afshar
My rating: 5 of 5 stars
"In the Field of Grace" drew me in with the very first sentence. This is a beautiful retelling of the story of Ruth and Boaz. I truly love reading historical fiction because it gives the reader a refreshing perspective of a story heard many times. This was no exception.
This book was fantastic from cover to cover! I was already pretty excited about it after reading the summary and boy, it did not disappoint! I love that it was told from both Ruth's and Boaz's perspectives. Afshar did a great job in lining up with scripture throughout the entire story; as much as one can when writing Biblical Historical Fiction. I felt love, anger, desperation, and so much more as I went through this story with each character. I could not put this book down and would have finished it much quicker than the three days it took me if I had had the time. Ruth is such an amazing example to us in how to release everything in our lives to God, and this novel does excellently in making you truly understand this point. I also loved that each chapter started with a Bible verse that framed your mind perfectly for what you were about to read.
I definitely give this book 5 out of 5 stars and recommend it to anyone who would like to read a refreshing take on the story of Ruth. I re-read the book of Ruth after I finished reading and it was so wonderful because I had a renewed excitement for reading a story that I had read at least a dozen times! I have a renewed fascination and love of the Book of Ruth. It is a story of love and trusting God with absolutely everything in our lives.
*I received a free copy of this book through NetGalley in exchange for my fair and honest review.