1/5 books
2014 Historical Fiction Reading Challenge
Challenge to read historical fiction. This is one of my favorite genres!
Goal: Victorian reader – 5 books
1)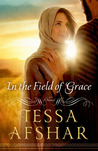 In the Field of Grace by Tessa Afshar
My rating: 5 of 5 stars
"In the Field of Grace" drew me in with the very first sentence. This is a beautiful retelling of the story of Ruth and Boaz. I truly love reading historical fiction because it gives the reader a refreshing perspective of a story heard many times. This was no exception.
This book was fantastic from cover to cover! I was already pretty excited about it after reading the summary and boy, it did not disappoint! I love that it was told from both Ruth's and Boaz's perspectives. Afshar did a great job in lining up with scripture throughout the entire story; as much as one can when writing Biblical Historical Fiction. I felt love, anger, desperation, and so much more as I went through this story with each character. I could not put this book down and would have finished it much quicker than the three days it took me if I had had the time. Ruth is such an amazing example to us in how to release everything in our lives to God, and this novel does excellently in making you truly understand this point. I also loved that each chapter started with a Bible verse that framed your mind perfectly for what you were about to read.
I definitely give this book 5 out of 5 stars and recommend it to anyone who would like to read a refreshing take on the story of Ruth. I re-read the book of Ruth after I finished reading and it was so wonderful because I had a renewed excitement for reading a story that I had read at least a dozen times! I have a renewed fascination and love of the Book of Ruth. It is a story of love and trusting God with absolutely everything in our lives.
*I received a free copy of this book through NetGalley in exchange for my fair and honest review.